Marketing
Industry Trends
The 5 Best Marketing Campaigns of 2017
If there's one cliche about social media that continues to ring true it's that social media marketing is always changing and growing (read our Social Media Pocket Guide for additional insight). This year saw rapid evolution in video, mobile, and AI, among other developments. Earlier this year, we took a look back at the summer social media marketing campaigns that impressed us most; now, it's time we do the same for all of 2017. The truth is, we found inspiration in countless digital marketing campaigns — from the restaurant industry to retail — and picking our favorites wasn't easy. The following list highlights some of our favorite campaigns of the year. Read them to toast to the goodness that led social media marketing in 2017, and to inspire your 2018 planning, too.
1. Heineken "Open Your World"
No longer can brands remain neutral on important social topics and still hope to find an audience willing to patronize them: as we explained in a blog post earlier this year, "Consumers, especially millennials, are setting new expectations for brands they love, and workers are demanding that their employers embrace and celebrate diversity. Tolerance doesn't cut it anymore." In a powerful Heineken ad from this past spring, the 153-year-old beer maker offers an elegant solution to the societal discord and increasingly polarized beliefs of today: get to know someone, talk out your differences, and let tolerance flourish (over a cold one, of course).
In just a few minutes, Heineken reveals the humanity of people who feel very differently about important issues like gender norms, climate change, and transgender rights and makes it hard for them to dismiss each other outright. The product is front-and-center but still muted — never does the ad call on people to share a Heineken, but no one could come away from viewing the ad without Heineken's product having made an impression. Heineken's ad combats the echo chamber that can sometimes occur with carefully curated social media feeds and offers viewers a concrete way to improve the world: keep an open mind and keep talking — a mindset that can, arguably, change the world for the better. The ad has been wildly successful, too: as of this writing, more than 14.5 million people have viewed it on YouTube.
2. Airbnb's "We Accept"
Airbnb is known for its socially conscious digital campaigns and #weaccept was no exception.
The spot clearly, and powerfully, conveys Airbnb's core brand value of acceptance. Just as Heineken found success with indirect branding and overt messaging about values, so too did Airbnb: this video post has been viewed on Instagram more than 113K times and has hundreds of comments.
3. Denny's "Overwhelming Existential Dread"
With the quickness of social media you'd be forgiven for not remembering the springtime trend of memes encouraging social media users to zoom in on photos to reveal hidden messages. Nevertheless, the clear winner of this particular meme-a-thon is Denny's. The breakfast purveyor tweeted an image of a stack of fluffy pancakes, butter slightly melting, syrup oozing, with text simply directing users to "Zoom in on the syrup."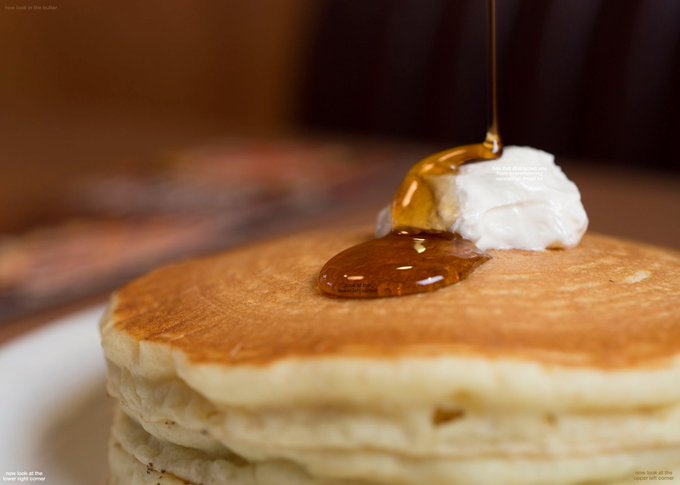 But if Twitter users were expecting some lame plug for the diner chain, they were in for a surprise. "Ouch, Denny's," writes Adweek, "Way to remind us that we're all just frittering away what few scant moments we have before our inevitable demise."
Denny's meme hits on all the success-on-social-media cylinders: irreverent humor that social media users have come to love, brand risk-taking, and brand-building rather than overt selling. In fact, Denny's confirmed to Adweek that (as of March 2017) this was the brand's most-shared and most-liked post of all time and, as of this writing, had more than 121K retweets and more than 171K likes.
"Carefully crafted marketing campaigns — the type that played well in traditional advertising forms — don't translate well to social media," explains Virginia Miracle, our Chief Customer Officer. "Millennials want brands to have a personality." But one that, if done right, can translate to major engagement numbers.
4. Introducing IKEA Place
IKEA's digital campaign highlighting their new Place app incorporates the best of 2017: accessible humor, current tech (in this case, AI), and clear customer benefit.
You'd be forgiven for thinking IKEA's Place app seems more like a video game than a marketing tool, but we're applauding IKEA for leveling up value to their customer — value on par with what ubiquitous GPS has done for couples on road trips. Long gone are the days of wondering whether or not a new IKEA chair will match your carpet, just as the days of arguing over whether or not to stop for directions are over as well (as long as you've got service, that is).
In 2018, consumers will expect creative digital marketing campaigns that surprise them and scratch an itch they didn't even know they had, just like IKEA's ad.
5. Bacardi's "Break Free"
In August, we highlighted the best summer of 2017 campaigns and while we still think every spot on the list is a 2017 stand-out, Bacardi's "Break Free" ad has made it into our year's best.
Bacardi's "Break Free" ad spot features a Caribbean town caught in an endless Boomerang loop — the vibrant subjects are unable to escape the repetitive motions of their day until a delicious alcoholic drink helps them to literally break free.
Bacardi's ad is one of the year's best because it incorporates an Instagram feature that became super popular in 2017 in a completely unexpected yet totally familiar way — who among us hasn't felt stuck in their daily routine and looked for a way to change it up? Even better, the ad showcases Bacardi's product in its best light — as a catalyst for a lighthearted and exciting summer evening with friends.
As 2017 winds down, we encourage you to look to the above digital campaigns for inspiration in the coming year. We can't wait to see what you'll do next.

Learn how to work your way to social media success with our Social Media Pocket Guide.